ATAKA team
A team at your service, to share runs, but also good times in the mountains and around a coffee!
The Ataka Team is created by four flying enthusiasts : Frank Coupat, David Eyraud, Frédéric Fugen  and Yoan Castagnoli.
All paragliding and speed riding instructors, also skydivers, they will go with you through your learning and improvement in flight and ski under canopy. They will take in account your level of flight, your skiing level, your physical aptitude and mental : they are real experts in speed riding teaching.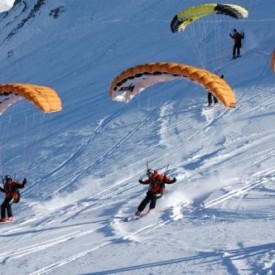 Our competitors instructors
Franck Coupat
ATAKA school founder and pioneer of speed riding.
Test Pilot. Paragliding instructor. Speed riding instructor. Air plane instructor.
David Eyraud
Former institutor in acrobatic paragliding. Training coach of the french team of acrobatics paragliding. Paragliding instructor. Speed riding instructor.
Also called "EL PRODIGIO"
Fred Fugen
A pioneer of speed riding, triple world champion in Freefly and Redbull athlete.
Paragliding instructor. Speed riding instructor. Parachute instructor
Yoan Castagnoli
Current Triple French Champion of speedriding. ESF coach. Acrobatic paragliding pilot.
Paragliding instructor. Speed riding instructor.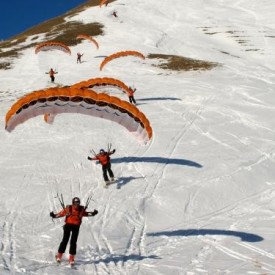 Our competitors
Nini
2012  French Champion of skydiving.  2011 French vice-Champion of speed riding.
Airline Pilot.
Nini can pilot all, even a refuse bag on fire.
Omar Zaïter
Second champion in Andorra (2012) and official pilot of the MUTANT canopy. It has also been designated as the king of the 360 TOUCH BARREL.
Champion of France 2014 and Champion of Andorra 2014
Filippo Fabbi
Leader of ARIA Team (skydiving).
Hippo, one of the five best speed riders in the world with his excellent team mate Lucas Tondeli.
They are already the best synchro team. ARIA TOUCH !
Lucas Tondeli
Team member and flying brother. He is perfect complement in skydiving as in speedriding with his team mate Hippo.