Speedriding in France
Speedriding : best value of adrenaline in the market

The Speedriding history is not very old: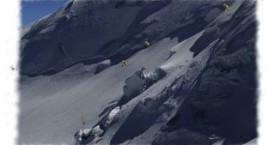 2001, Valfrejus in French Alps : Some skydivers take off from a slope skis on with their canopy. They fly and play realizing some "touch" on the snow with their skis.
2003, still in Avlfrejus, French Alps, some paragliders move the gear and try to improve the equipment. They start to organize and to codify the sport.
Among them, Fred Fugen, Antoine Montant, David EYRAUD and Frank COUPAT (founder of Ataka school).
They found the name speed riding.
"Now, we are going to ride… and ride fast!". Play with elements, no more fear…

In France, there is only one place to learn  :
Val Fréjus in Savoy.
90 Km from Albertville, close to Modane, this small and quiet family resort sits in the heart of four national parks. Val Frejus is a wonderfull ski resort, perfectly equipped in ski cables.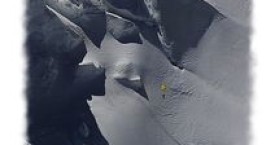 Based in a vast and warm place, at the top of the resort is ATAKA school.
Ataka school is managed by Frank COUPAT, David EYRAUD and Yoan Castagnoli (all paragliding instructors qualified in speed riding).
Ataka school got several types of wings in various sizes, from 8 to 15 m2. Seats are light and equipped with protections.
The follow up of the students in flight is made with radio assistance. The instructor can guide the student at anytime what guarantees maximum safety.
School contact: 06 62 10 54 07 or 04 79 56 61 76

All resorts do not authorize speed riding on their skiable domain.
Val Fréjus is the first resort to welcome and to encourage this new discipline.

Speed riding is practiced off-track only.

Speed riders must all be able to ski on a red slope on any type of snow.